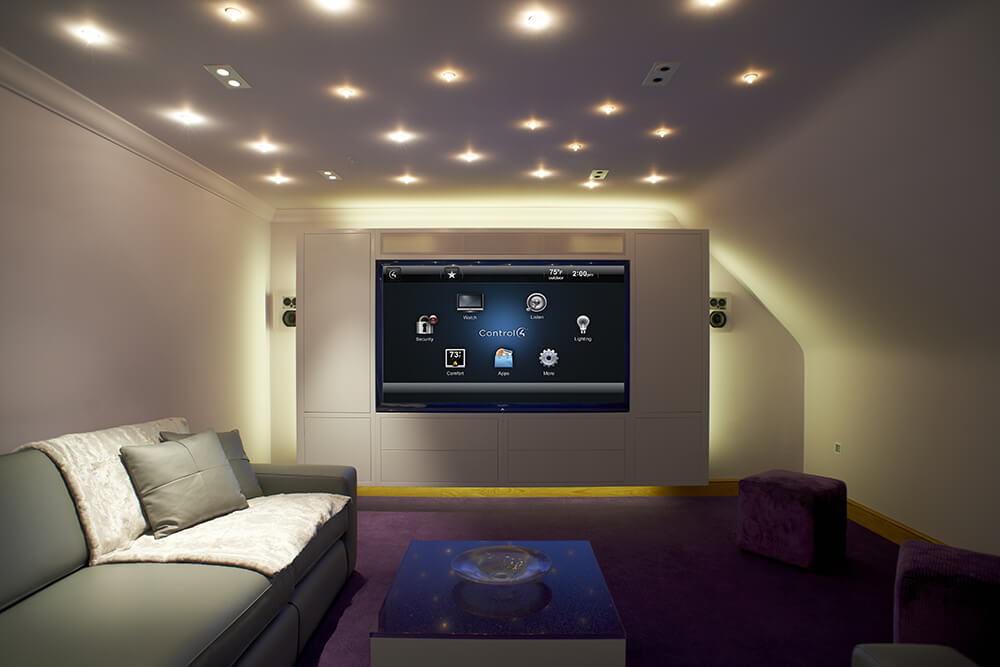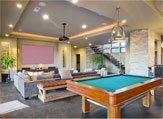 Houston Home Theater / Audio Video
Completely Customized Systems for all of your Home or Office A/V needs! We know every client and every project is different, and approach with open ears.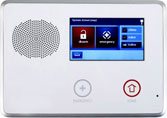 Security & Surveillance
From Basic to Complex, we offer solutions from the most proven technologies, and help you with your design, installation, and monitoring. View your cameras from your smart phone and enhance your piece of mind.

Home Automation
Do you Automate? It just makes life easier. The benefits are ongoing, and the new technologies are incredible. Control Security, Thermostats, Lights, Door Locks, Garage Door, Audio/Video, Intercom, Sprinklers, Pool from your smart device. Easy As Pie!

Thanks to one of our clients for posting these pictures of their completed home theater room on our Facebook Page. Downstairs we installed a 3D TV on a Brick Wall with a Distributed Home Audio System. In the home theater, we designed and installed a completely Custom Home Theater System – Houston, TX. Note from the client: We love it, thanks for everything, guys!
---
 Install Houston Home Theater Systems | Whole Home Audio & Media Rooms Houston | Home Automation Company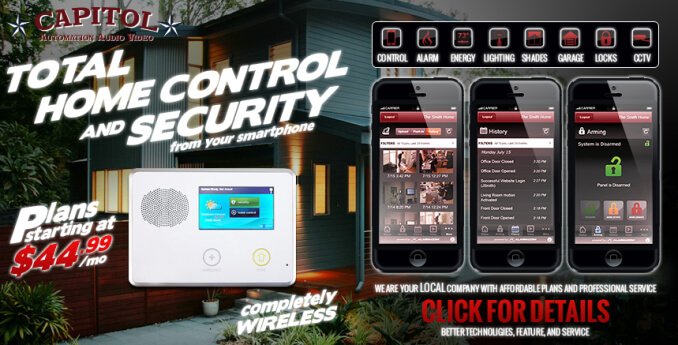 ---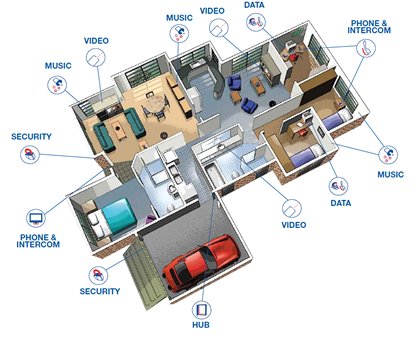 Custom Smart Homes | Automation Systems
Our customized approach to your home technologies is part of what sets us apart from others. We don't force you into a take it or leave it approach, as do many other companies. We are specialists in complete Home Automation Systems, and Custom Home Entertainment solutions here in Houston. Our custom options allow you to take your home to a whole new level of control and freedom. We can utilize these technologies in your existing home or in new builds or remodeling projects. Think about your Home Theater System, Thermostat, Door Locks, Security and Live Camera Monitoring from your phone, Audio/Visual, Lighting Control, Shades, Sprinklers, Pool/Spa and more controlled the smart devices that you own. More info. on Complete Home Automation Design & Installation
A handful of our Houston Home Theater & Electronics brands:




Spring and Fall are great times of the year to have guests over and utilize your new Backyard and Outdoor Patio Audio/Video System!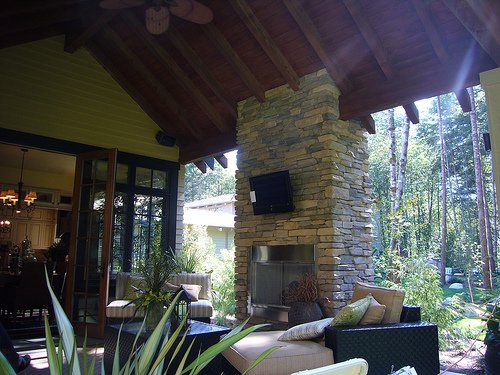 ---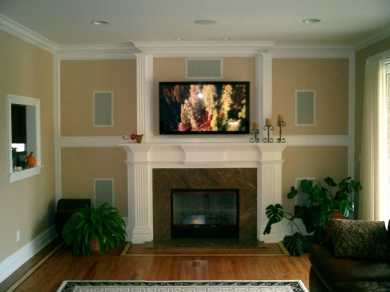 Home Theatre Houston – Media Rooms | Home Entertainment Systems

Home Entertainment at its best comes in the form of Media Rooms and Home Theater Installation. Our focused approach to your budget and goals lend us an edge over competition who may be pushing too much of a personal agenda.
We know that every client is different and has a different viewpoint on what they want and need in their spaces. Your home theater can include a wide range of home theater equipment, audio video devices, and home electronics systems.
You may want in-ceiling or in-wall speakers or sub woofers for a clean look, others will want tower speaker systems, book shelf speakers, and more in room options. Many of our clients go with 3D projectors, and quality projector screens, in addition to their high performance audio systems. Furniture and build out can be a big part of the project as well, it all depends on your personal needs. Some of our other services include Home Automation, Whole Home Audio/Video Systems, Commercial Audio/Visual, and Security Systems.
We personally design your system to include the input that you have given, and we work with you to fit this amazing technology into your lifestyle. Combining different brands and systems into a working unit is a common occurrence to us, where other companies lack this. Why not take the best equipment developed by each brand, instead of going with one brand for everything, when they are not superior in all facets?
As a full service Home Theater Contractor, Audio/Video Contractor, and Smart Home & Security Contractor in Southeast Texas, and Greater Houston, we find ourselves working with all types of people and businesses, and we embrace this diversity. This is what we do, daily, throughout the entire year. Whether you need a Media Room design needed with woodworking, or a surround sound system for your living room, outdoor patio speakers and TV's installed, a whole home stereo system, or service to a previously installed system, we are here to help you.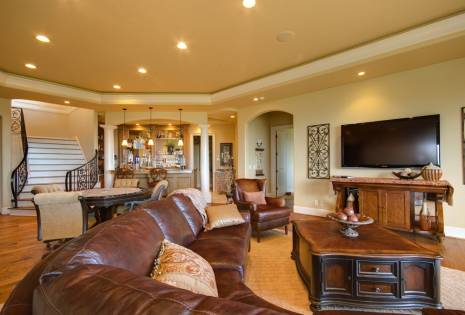 These rooms are built for privacy and for getting lost in a movie, watching the big games, getting lost in your favorite music, playing those realistic video games, and even talking on Skype with family. Even if you only do one of the aformentioned activities, your Custom Home Cinema can still function as a relaxing, fun, and meditative atmosphere, all in one. Use your imagination, and we will give you our best ideas too!
Do you know about all of those "latest and greatest" home technology devices, like 4k TV, Streaming Receivers, Amps, High Powered Speakers and Sub Woofers, Speakers, Projectors, TV's, Apple TV, etc? It's a lot to soak in and learn about. One thing is for certain, there can be a lot said regarding quality professional and custom brands will in many cases over-achieve and cost less than the name brands in Audio/Video. Also, some of the custom industry brands separate themselves by offering longer and sometimes lifetime warranties on equipment, which is a statement of quality and backing their products.
We offer a high quality custom speaker brand that carries a lifetime warranty, and holds excellent online reviews as well. We do offer some of the hard to get and high end speaker and audio brands, but we believe most of our clients should go with a middle market system, for many different reasons. One is budget. Not everyone has 15-30k to spend on houston home theater systems, and fitting in the speakers can be a challenge if one goes too high end. Secondly, many people cannot appreciate audiophile quality houston sound systems over a middle of the road system, so why spend the cash? You can certainly appreciate 3D over standard HD video, or be able to see a better image with a high quality projection screen, etc. We will help you apportion your budget to the most important aspects that you see in your system.
We have manufacturer direct access on many brands, and do not carry the overhead of a retail showroom. Again, in our opinion, unless you are an "Audiophile", you do not need to spend a fortune, but you still quality systems that will work day in and day out! We have developed a keen ear for what we feel are the best brands and equipment per different budget ranges. We'll pass our knowledge and recommendations on to you so that we can help create the best fit for your system.
We consult with you to determine the system design, specifications of equipment, and how installation will proceed, so that we cover at minimum a macro view up front.
You have more questions, and we have plenty of answers, so please ask away by Contacting Us Here or call 713-385-6503. We have your custom systems covered in all areas surrounding Houston, including : Katy, Cypress,Tomball, Spring, The Woodlands, Conroe, Atascocita, Humble, Bellaire, Memorial, League City, Pearland, Missouri City, Sugar Land, Friendswood,Montgomery, Brenham, Galveston, Richmond/Rosenberg and up to 50 miles.
---
 

Home Theater Design Installation Houston | Houston Audio/Video Systems Company
Contact us for High end home theater company store & home audio/video solutions today. Home Theater Houston with custom design, installation, gear, and consulting. Home Media Rooms Houston TX Home Theatre Install