Houston Home Audio Systems Design & Installation
There are so many options to choose from, where do you start? We will provide some information on the route some people go, and options that are popular within our client base. From the most simple form, Home Audio starts with speakers and an amplifier to push power to the speakers. From there, we can get as advanced as you could ever imagine. We can add multiple sets of speakers throughout the entire home with different sources to choose from, including online sources. How about localized volume control in secondary rooms to make it easy to use? Take time and think about what you are looking for from a budget, design, and performance standpoint. Speakers can go in room or in wall or in the ceiling. There are benefits and shortcomings to each decision related to your home audio system.
More Simple Stereo Systems in the Home
:
Some folks like a pair of bookshelf speakers in their entertainment center, connected to a basic 2 channel Audio Video Receiver. These people must not know what they are missing out on, but that is about as basic as it gets.
More Robust Houston Home Audio: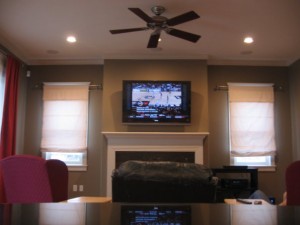 Utilizing your specific spatial situation as best you can to achieve your home entertainment goals is important. There is no need in making decisions that do not make sense. We do this every day and can help you decide what does and doesn't make sense by analyzing the costs and benefits. What makes sense when deciding on more robust systems, is add in ceiling and in wall speakers into your pre wired home. Each room receives 2 speakers, and many homes are now pre wired to achieve that effect. In wall and in ceiling speakers are generally less expensive than their in room counterparts, and so is the installation. If your home is not pre wired, we will help you decide what is the best method to move forward depending on the construction and layout of your home.
When you do decide on having multiple rooms of music leading back to one amplifier or receiver, the next thing you consider if you would like the ability to play different sources at the same time. If you are concerned with playing your music (ITunes for example) on the patio, while your spouse listens to internet radio in the sitting room, you'll need a muti-zone receiver. Most of our clients choose this. Why? It doesn't cost much more, and you get a nice value out of it. This type of system is also expansive, but as you expand into many rooms, you will need added amplifiers and speaker selectors or volume controls integrated. We'll discuss more about this during our appointment with you or on the phone.
Full Blown Home Audio Systems:
If you go all out, you can have multiple surround sound systems, a theater room, media room setup, house audio/video distribution, outdoor entertainment systems and more. When you add more than 4 rooms, we start to recommend a whole home distributed audio system. This allows you more control and versatility. Up to 6 sources are available in any room, and zoned audio is possible in each room. We use Nuvo Technologies time and time again to help simplify a large home audio project.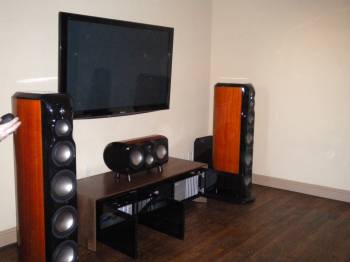 If you are considering a home audio system design in Houston, please give us a call at 713-385-6503 or fill out our contact form here and we will get started with a free in home consultation.
Houston Home Audio Systems | Home Audio Installation Company Houston, TX