Custom Surround Sound System Solutions
Surround Sound solutions in Houston are various, depending on the space alotted for the project. You can get a nice sound from a 5.1 surround sound system in your home, and surround sound systems are often used in Home Theater Rooms, Custom Media Rooms, and Game Rooms.
We have a specific approach to our home audio designs, and we always take our clients goals and budget and put them in the forefront. Surround sound design isn't a huge task, but installation can be tricky and require some high tech skills and construction background, which we have. We install these systems every week, and we know how to make the best decisions for your project as things happen in the field.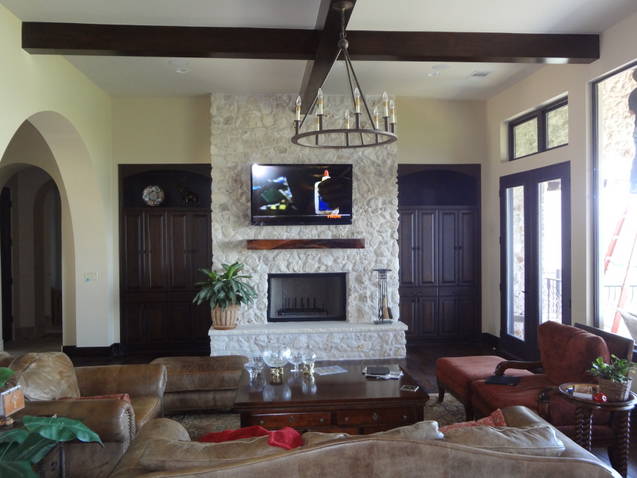 Pre Wired Surround Sound or Retro Fit Installation:
New construction homes allow for you to choose pre wired rooms for audio, video, security and more. If your home is pre wired for a 5.1 surround sound, then you will definitely be saving money on installation costs.
If your room has not been pre wired, we can do so if you are in a remodel or construction phase of your project. If you are in an existing home that did not receive audio/video pre wiring services, then you will need to allow extra funds for a retrofit installation. Prices differ based on man hours involved, and every room is different, so there is no way in knowing until we come out for a site survey.
Also, within the walls of many homes are fire blocks that prevent wire running, or slow the retrofit wiring process down. We do our best to diagnose these things in our site survey, but there will always be some unknowns because we cannot see inside walls. The only way to know sometimes is by getting started.
Give us a call at 713-385-6503 or Contact Us Here to inquire about our service today! We will come out for a free site consultation to take a look at your home audio video needs and evaluate the best strategy to help you reach your goals!
Surround Sound Installation Houston, Tx Surround Sound System Design Company