Your Backyard Patio and Porch Audio/Video System – Pool Speakers Surround Sound Array
Choose how you would like to see your backyard decked out in home audio/visual equipment. The types of systems that we put in for our clients dazzle them, and provide a high sense of enjoyment and pleasure throughout the year in their backyard or outdoor space. Many of our clients go with a standard stereo speaker system with an outdoor television and a universal remote. Many people choose a TV Shield or Sun Brite TV to make sure that their TV is protected from the elements.
We agree with this mentality, but we also have another unique perspective. If you are able to have a TV mounted flat against a wall, you can also consider covering the TV with a heavy duty tarp, as well as take the TV off of the mount and bring it inside when not in use. People have options, and we let them know all of the options that we have come up with as well, based on the specific situations that we encounter.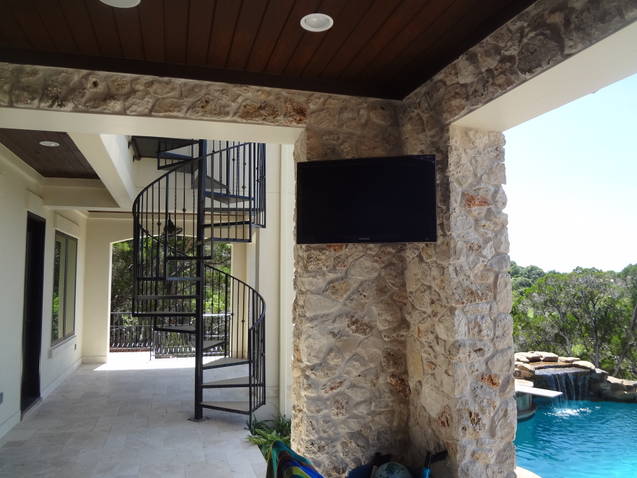 Going Bigger with Outdoor Audio/Video Systems in your Houston Backyard
We take things to the next level in outdoor a/v setup when clients want to use more of their backyard, or would like to incorporate more than just a couple of speakers hung in the porch area. What we can do is amazing, and its one of the more fun areas to do custom installation projects for us. Did you know that you could adopt an in-ground sub woofer, speakers that mimic potted plants, as well as speakers that stick into the ground with a stake? That's right, there are many options for outdoor stereo systems, and manufacturers are always coming up with better ways to setup your outdoor entertainment.
What else can you do? Well, an outdoor projector and 5.1 surround sound system are pretty popular these days if you have the correct spacing setup. This is basically an outdoor home theater system, and its awesome if you have the right space for it. We'll talk more about this as there are many different ways to achieve this setup for your backyard, but this is a completely custom experience.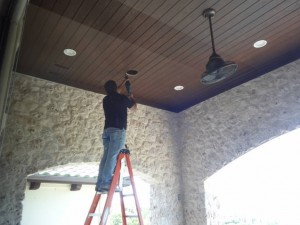 Solutions for Swimming Pool Audio – An Array of Speakers
Ok, so if you have a pool, you can take your audio system to the next level by creating an array of speakers surrounding your pool area. This is an incredible sound system option for those folks who really want awesome sound and a fun atmosphere around their pool. This truly is a surround sound system installation Honing all of the audio in towards the pool from every side is a new way to experience custom audio video solutions in your backyard.
Give us a call at 713-385-6503 today to discuss your outdoor a/v and backyard audio setup options. We'll come out for a free consultation to discuss your goals and how we can help you achieve them.
Custom Patio Audio Video Systems Houston, TX Pool Audio Setup on Back Porch and Backyard Speakers Systems