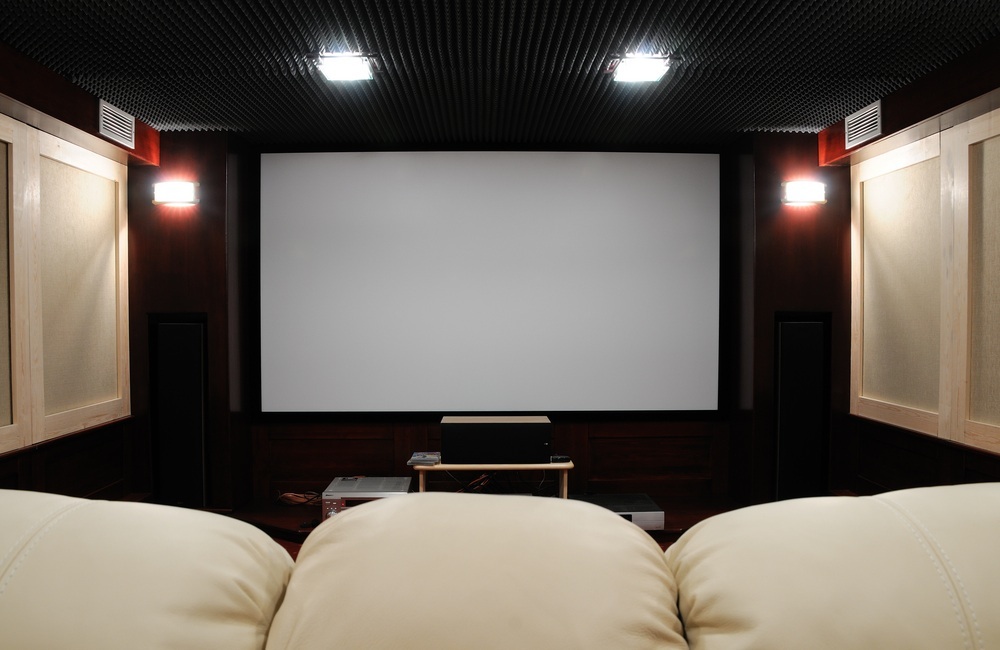 Completely Customized Systems – we meet your goals! High End Home Theater or Not…

When you picture a Custom Home Theater Design, does your mind wrap around high-end elegance, with custom woodwork, movie posters, lighting control, leather theater seating, home theater projector, and custom theatre speakers? Many folks with large budgets in Houston choose Home Theater room details that reflect their personal expression & interests. Houston, all of the area suburbs with more square footage are popular places to build a theater room thanks, in general to getting more home square footage per dollar spent.
These spaces absolutely do not have to be as extensive as mentioned above with all of the bells and whistles, however. Most folks want a functional room designed with some uniqueness and personality. Not everyone can spend $20,000-$50,000 on a home theater room, and most do not. Using your own couch and chairs is a great way to reduce the cost, and the space can be whatever you want it to be, it is your home! We offer high-end audio video designs, products, and installation, but focus on more affordable designs because most clients who are in the market spend about $5,000-$15,000.
We actually listen to your needs!

We schedule a FREE no pressure consultation with you at your home. As professionals, we take the confusion out of the process for you and offer you system options based on the layout of your space, and what YOU want to achieve. We fully educate each client to the need of each individual. Some folks know more about what we do than others. Ask as many questions as you like, seriously! We know that this is kind of like Rocket Science to many folks, and we definitely understand. We'll discuss the installation process, and what the specific end result will be in advance of installation. As a fully insured company with people who truly care about our clients, there is no reason to worry. We take appropriate measures to ensure quality installation & safety.
There are so many ways to customize, and we will guide you!

Many of our clients want the following information or applications in their home theater room:
Professionals to educate them about a system that meets they're needs & budget while maintaining quality equipment.
Custom Home Theater Projector – 3D is the new standard, but 1080P picture quality is great too.
Home Theater Screen – Screen Innovations of Austin, Texas recently changed the whole game! The black diamond is an amazing screen! Lights on or lights off, the picture quality and brightness looks the same. We also carry many other brands.
5.1, 7.1, or 9.2 Surround Sound System – The first number in the sequence tells you the number of speakers, and the second number indicates the number of sub-woofers in the application. There are others, but those 3 are the most popular surround sound systems.
Professional Wiring to make sure the system doesn't malfunction or have any hiccups.
Universal Remotes – one remote to control the entire system and all components. Enough said. Different models available.
Protective measures such as a power conditioner or surge protector to protect from lighting strikes and optimize for best performance possible.
Can Lighting, Dimmers, & Electrical Systems in the right places to meet code requirements.
Custom Installation for they're home theater room or whole home audio project by a fully insured professional company.
Proper Cleanup & leaving their home in BETTER shape that they found it in! This is often overlooked.
Optimizing sound – we have specialty equipment and will test and optimize the audio system once installed.
What about Pricing?

How much do you think it costs to have a system? Well it depends on what playing field you want to be on. Systems will start around $3,000 for a decent surround sound system with installation as long as the room is pre-wired. This application would be very basic, but would work.
I always recommend at least mid-grade custom equipment to really get into the quality experience that provides the ooooh's & ahhhh's. Most clients choose this route even if they have to save a bit more money and delay the project a few months. It's well worth it.
Give us a call or email us to begin discussing your project or ask a question. Remember, we put your budget and goals ahead of other factors, because we understand that everyone has different preferences & needs, and every client is unique.
Houston Home Theater Design Company | Home Theater Systems Designed in Houston, TX Custom Theater Room Services Company